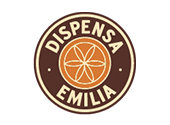 Ground Floor
external location
Dispensa Emilia
​Dispensa Emilia was born from the idea of ​​combining the tastiness of the Emilian gastronomic tradition with a modern and fast service restaurant, the ideal also at the station.
Cooked and instantly stuffed TIGELLE.
FRESH PASTA stir-fried in the pan at the moment.
Rich and tasty SALADS.
The pleasure and taste of good food meet the convenience of a quick and comfortable meal.