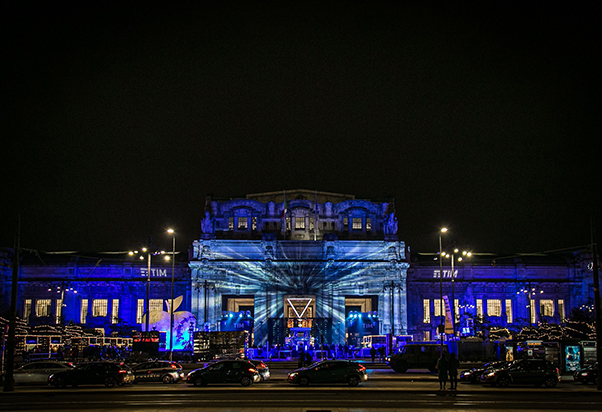 TIM SENSTATION
Christmas starts from here!
Milano Centrale is about to launch one of the biggest event of Milanese Christmas sponsored by TIM. From 8th December Milano Centrale will host TIM Magic Cell, Projections Super Show, Ice Park and High Speed Zipline for living unique emotions.
Light will be the protagonist of TIM - SenStation. A wonderful Show of projections of 2000 s.m. will enlight all the MIlano Centrale' entire facade with daily from 5 pm to 11 pm. A unique monthly show full of music and colours that will cover the Milano Centrale's facade; it will give visitors and travellers the possibility to live an incredible experience.
To make the event even greater, there will be the only TIM Zip line in Milan, an "adrenaline jump" of more than 140 meters from 14 meters height. Visitors will have the chance to fly all over the square, at high speed and experience pure adrenaline and fun, with the chance to get a souvenir photo at the end.
Moreover, the TIM Magic Cell will be unveil as a incredible large interactive installation to be experienced. The interactive structure will change constantly its lights, colours, music, and images and will amaze people from all ages.
Least but not last the ice skating rink with incredible lights effect and music made greater by a Christmas tree and a Market.
STAY TUNED! #senstation